The reality is that over time you may have many different individuals or agencies involved in your marketing. This is particularly true with your website and social media. With all these hands stirring the pot(well maybe a bunch of different pots), are you delivering a congruent message to your target audience?
Is it obvious or obtuse when your target audience visits your Facebook, Twitter or LinkedIn page then your website that it is the same company or Is Your Marketing Content Confusing?
We see 3 commons problems when looking at social media and websites that can make your marketing content confusing.
Website Landing Page
WTF?
Pictures/Images/Graphics
Website Landing Page- You don't have to say everything on one page. Your landing page should make it one click easy for your audience to find what they want. This is a common problem for manufacturing and B2B service companies. Use product specific pages for the nitty gritty details. A well constructed landing page will get visitors to the product specification pages that they want to read. A good example of a website with a "ton" of information, but easy to navigate landing page with audience in mind is the FDA.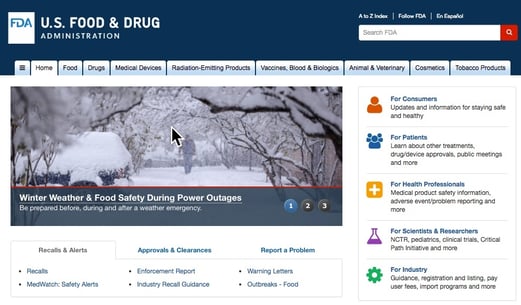 If you are having difficulty cleaning up your landing page, maybe you have not clearly defined your target audience. Take a look at How To Create Buyer Personas For Your Business. Use highly focused social media messaging to send visitors to the appropriate content specific page based on the content in the message.
WTF? Why That Font?- Much research has been conducted on fonts and their psychological impact on perceived difficulty of accomplishing a task. Font selection will affect the perception of how easy or difficult it will be to do business with your company. Read the research and select the appropriate font from the typeface family that sends the message that your target audience wants to hear. That Buyer Persona thing is becoming really important now. Avoid mixing fonts and typeface on the same page. A best practice is to have a company style policy.
Pictures/Images/Graphics- One size does not fit all! Company Brand and Logo should be uniform across all social platforms and your website. It should be obvious when I click from your Facebook page to your website that it is the same company telling the same message. Hire a professional to do your design work. A qualified professional will completely understand the requirements for all platforms. If you want to audit your current images download The Ultimate Guide To Image Size.
Don't make your marketing content confusing! Define your target audience. Articulate your message. Make it one click easy for visitors to find the content they are seeking.
Check out our HubSpot Partner page for useful tips and tricks.
Learn more about How To Have Digital Marketing That Works.
You may also want to read about: