A few years ago I was dealing with the same issues that you likely deal with.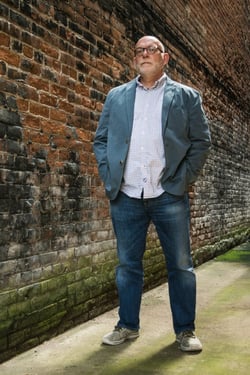 My business operated under ISO 9001 and ISO 14001.
I was worried about payroll. I was concerned about the new competition I saw in the marketplace and on the internet. I was upset about some negative reviews.
And I was really angry that the people I was paying to manage marketing for my company couldn't answer these three simple questions:
1. WHEN SOMEONE CLICKED ON MY SITE, DID THEY BECOME A CUSTOMER?
2. HOW MUCH DID IT COST FOR ME TO ACQUIRE A NEW CUSTOMER?
3. WHY DIDN'T MY WEBSITE APPEAR ON THE FIRST PAGE OF GOOGLE?

I asked and asked…and asked again. But all I got were smoke and mirrors. It was obvious to me that these "marketing" people didn't understand business. And moreover, didn't have a clue to what was important to me as a business owner.
So I fired them. And I became my company's in-house marketing agency.
I realize it's unusual for a business owner to manage his company's marketing. But my degree in Chemical Physics and my background in quality make me a nerd. I was a geek before anyone knew what that meant.
So, the first thing I did was take the exam to become certified in Google Analytics. I then discovered I could measure:
WHICH CLICKS LEAD TO CONVERSIONS

THE COST OF ACQUISITION OF EACH NEW CUSTOMER

WHICH LEADS COME FROM GOOGLE
Then I dug in and got more certifications (see the list below). I implemented a marketing strategy that made my company the most visible in its category and my online leads proved it.
A few years later, I sold my business for a nice profit and launched Analytics That Profit. My commitment now is to help other business owners see the kind of success I had by employing results-driven online marketing.
So…
IF YOU'RE FRUSTRATED WITH YOUR MARKETING TEAM (OR DON'T HAVE ONE)

IF YOU'RE READY TO OUT-GUN YOUR COMPETITORS ONLINE

IF YOU NEED RESULTS INSTEAD OF A LOT OF TECHY-TALK
Then we're the right agency for you. We're focused on results. I'll repeat that…
WE'RE FOCUSED ON RESULTS
WE'LL MAKE YOU VISIBLE TO THE RIGHT PEOPLE AT THE RIGHT TIME

WE'LL GET THE PHONE TO RING

WE'LL HELP YOU MAKE MORE MONEY
We speak your language. Let's talk.
Phil Wiseman
Founder, Analytics That Profit
Certifications
Google Analytics Certified
Google Adwords Certified
Mailchimp Certified
Inbound Marketing Certified
Social Media Marketing Certified
Growth Driven Design Certified Agency
Contextual Marketing Certified
HubSpot Certified
HubSpot Sales Software Certified
HubSpot Marketing Software Certified
HubSpot Agency Partner Certified
ASQ Certified Manager of Quality/Organizational Excellence
ASQ Certified Quality Auditor