HubSpot recently conducted a survey, "What Consumers Want to See on Company Websites." I thought this would be a great opportunity to share those insights so your website will meet the needs of your ideal customer and guide them through their customer journey. The old adage is true: Give the people what they want.
Plan your business website with these
4 essential elements
:
The Purpose Of Your Website

Identifying Your Target Audience

Generating The Right Content

How To Measure Success
Here are some enlightening facts from Google:
90% of B2B researchers who are online use search specifically to research business purchases.

On average, B2B researchers do 12 searches prior to engaging on a specific brand's site.

71% start on a generic query, so they're looking for product first, not for you.

Seventy percent of B2B buyers and researchers are watching videos throughout their path to purchase.
Source: What You Need To Know Before You Plan Your Business Website
When people find out what I do I am often asked, "Do I really need a website?" My answer is an unequivocal, "Yes!" For example, if you are a plumber in Cincinnati and don't have a website, you would not be in front of the 320 searches every month on Google for the term, "Plumber in Cincinnati." If you do not have a website, how would these 320 potential customers know your business exists?
A website for your small business allows you to compete when potential customers look for your product or service. According to the SBA (Small Business Administration), 97% of consumers look online for local products and services.
Source: Why Small Businesses need a Website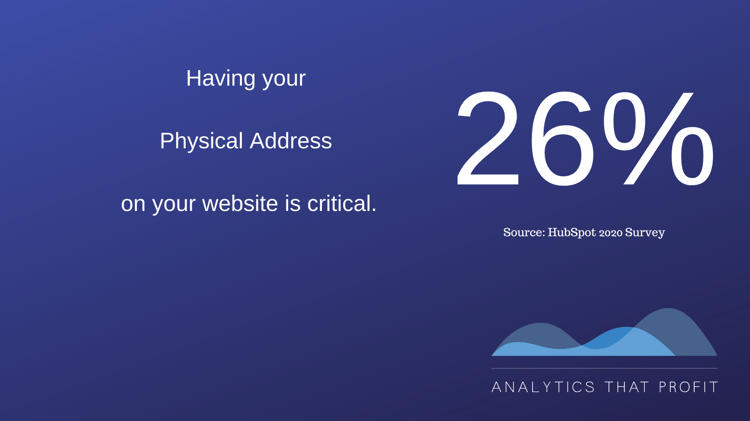 Geographic details are invaluable for local search SEO.
46% of all Google searches are looking for local information — which means if your business isn't optimized for local search, you could be missing out on potential customers who are searching for products or services within your geographical region.
And, as shown in our research, 26% feel a business' physical location is a key component of an effective website.
The pandemic has made many of us forget a physical world exists. Most businesses with brick-and-mortar locations rely on customers within a certain geographic area. Fortunately, when many people search for a product or service, they include a location. Including your location information will help your SEO strategy and help people unfamiliar with your region find your business.
For instance, if you need a locksmith, you might search "locksmith in Maplewood, NJ." This is why you should use your location in page titles and other metadata, as well as in the text that appears on your website. If you have several cities you serve, you should consider creating landing pages on your site for each location for easier navigation.
Source: HubSpot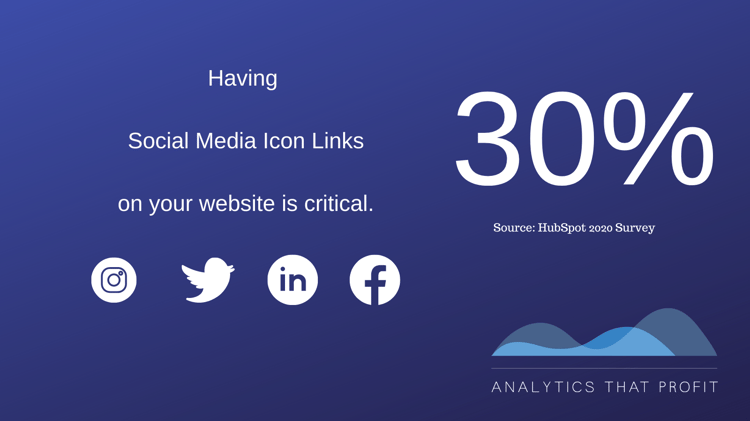 You'll want to include social media icons to drive traffic to your social pages.
We know social media icons are important, but I was surprised to see this element overshadow live chat, customer case studies, and blog as the most important element of a company's website, according to 30% of those surveyed.
Once your website is regularly bringing in traffic, it's important you link out to your social media pages so prospects and customers can follow you.
However, it's important you don't overdo it — when in doubt, go for simplicity over scale. For instance, if you work for an ecommerce company, consider linking to a few visually appealing pages, such as Instagram, Pinterest, or YouTube.
Of course, don't add platforms that you don't update regularly. You're building trust, and that comes by regularly having updated and relevant content and answering queries from customers and leads.
Source: HubSpot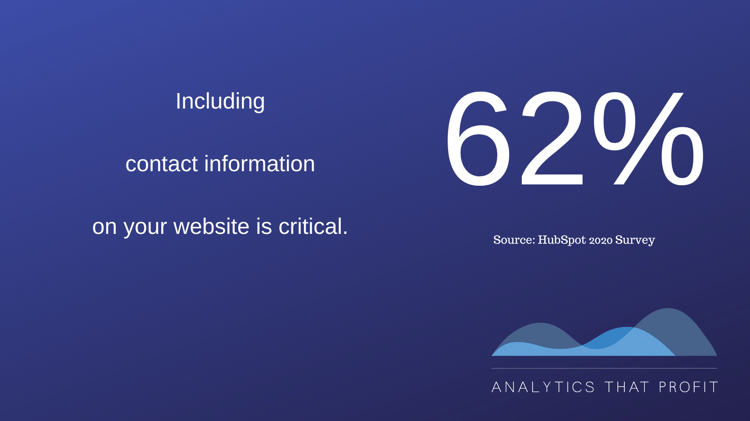 According to 62% of those polled, including contact information on your website is critical.
Including contact information seems simple, but a lot of companies miss this. And it's undeniably important—in fact, those surveyed rated "Contact Us Information" as the most important element you can include on your company's website.
You'll want to include the phone number, email address, or other contact medium you want people to reach you for sales inquiries—preferably in an easy-to-find location, like the header of the page.
Also, consider including a clickable "Email us!" CTA that either opens an email client or links to your contact form. And, speaking of forms, you might want to embed "Contact Us" forms throughout your site. Visitors don't need to go on a scavenger hunt to find out how to get in touch with you.
Source: HubSpot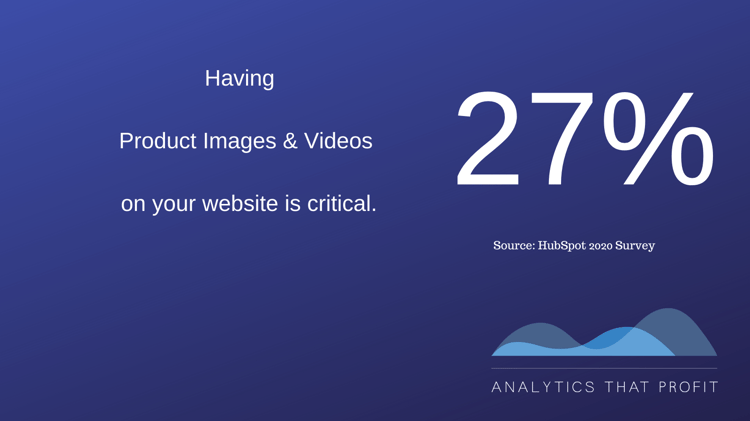 27% of people say it's most important to use original videos and images of your products or services on your website.
Customers like images—but they are weary of stock photos, particularly of products or services. This is where authentic behind-the-scenes videos and photos can help.
For instance, if your company provides a service such as landscape design or IT maintenance, show before-and-after pictures of your work.
If your service is something less tangible, such as insurance or life coaching, show pictures of your friendly staff and your belief system using visuals. Or, better yet, include video. Videos where you are explaining your business' purpose are powerful opportunities for increasing trust with potential customers.
Source: HubSpot
Live chat is an important element of a business' website in 2021.
According to 28% of our respondents, live chat is a necessary component of a successful website.
Chatbots can't replace real people with customer service, but they are a good alternative for those who don't want to call or email and may be inquiring about services or simple FAQs. To meet customers where they are and provide the instant feedback they require, consider installing a live chat option on your website.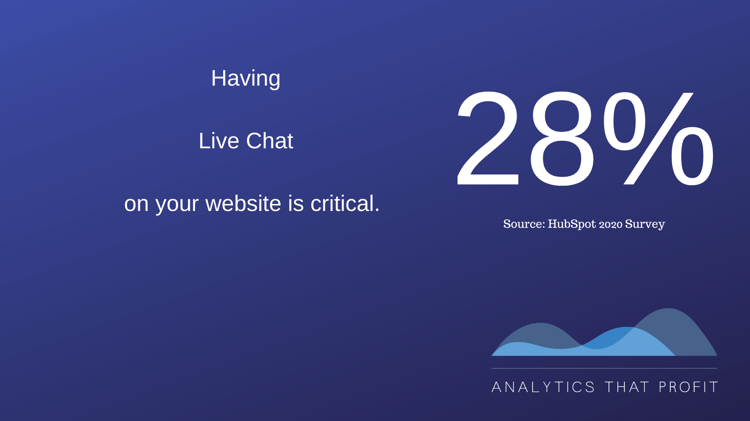 Chatbots are easy to program and many don't even require code. Artificial intelligence has made this functionality much more feasible for companies of all sizes. In fact, many companies offer live chat as a simple plugin for your CMS platform.
Other reasons to consider a chatbot:
Source: HubSpot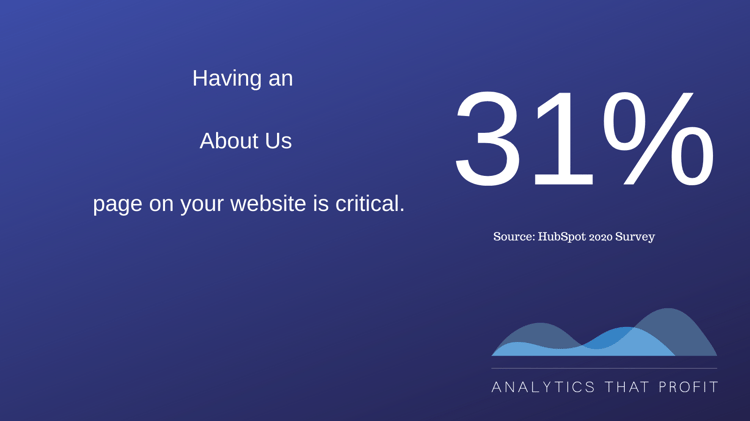 An About Us page is a vital element, and can help your brand share its story.
Sharing your story and highlighting core values is critical for your brand's long-term success. In fact, 85% of consumers say they'll only consider a brand if they trust the brand.
As shown in the poll we conducted, an About Us page is the second highest-rated element, with 31% ruling an About Us page the most important element—overshadowing live chat, product images/video, and even case studies.
Simply put, people care about who they do business with, so tell people who you are and why your work matters. That said, keep it brief. Customers don't have time to read a research paper.
For About Us page inspiration, take a look at 26 About Us & About Me Pages + Templates to Make Your Own.
Source: HubSpot
Here is what we say on our about us page.
A few years ago I was dealing with the same issues that you likely deal with.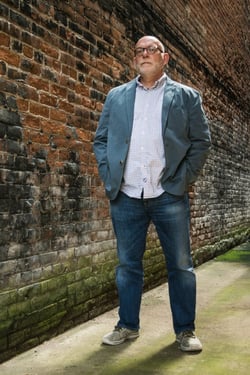 My business operated under ISO 9001 and ISO 14001.
I was worried about payroll. I was concerned about the new competition I saw in the marketplace and on the internet. I was upset about some negative reviews.
And I was really angry that the people I was paying to manage marketing for my company couldn't answer these three simple questions:
1. WHEN SOMEONE CLICKED ON MY SITE, DID THEY BECOME A CUSTOMER?
2. HOW MUCH DID IT COST FOR ME TO ACQUIRE A NEW CUSTOMER?
3. WHY DIDN'T MY WEBSITE APPEAR ON THE FIRST PAGE OF GOOGLE?
I asked and asked…and asked again. But all I got were smoke and mirrors. It was obvious to me that these "marketing" people didn't understand business. And moreover, didn't have a clue to what was important to me as a business owner.
So I fired them. And I became my company's in-house marketing agency.
I realize it's unusual for a business owner to manage his company's marketing. But my degree in Chemical Physics and my background in quality make me a nerd. I was a geek before anyone knew what that meant.
So, the first thing I did was take the exam to become certified in Google Analytics. I then discovered I could measure:
WHICH CLICKS LEAD TO CONVERSIONS

THE COST OF ACQUISITION OF EACH NEW CUSTOMER

WHICH LEADS COME FROM GOOGLE
Then I dug in and got more certifications (see the list below). I implemented a marketing strategy that made my company the most visible in its category and my online leads proved it.
A few years later, I sold my business for a nice profit and launched Analytics That Profit. My commitment now is to help other business owners see the kind of success I had by employing results-driven online marketing.
So…
IF YOU'RE FRUSTRATED WITH YOUR MARKETING TEAM (OR DON'T HAVE ONE)

IF YOU'RE READY TO OUT-GUN YOUR COMPETITORS ONLINE

IF YOU NEED RESULTS INSTEAD OF A LOT OF TECHY-TALK
Then we're the right agency for you. We're focused on results. I'll repeat that…
WE'RE FOCUSED ON RESULTS
WE'LL MAKE YOU VISIBLE TO THE RIGHT PEOPLE AT THE RIGHT TIME

WE'LL GET THE PHONE TO RING

WE'LL HELP YOU MAKE MORE MONEY
We speak your language. Let's talk.
Phil Wiseman
Founder, Analytics That Profit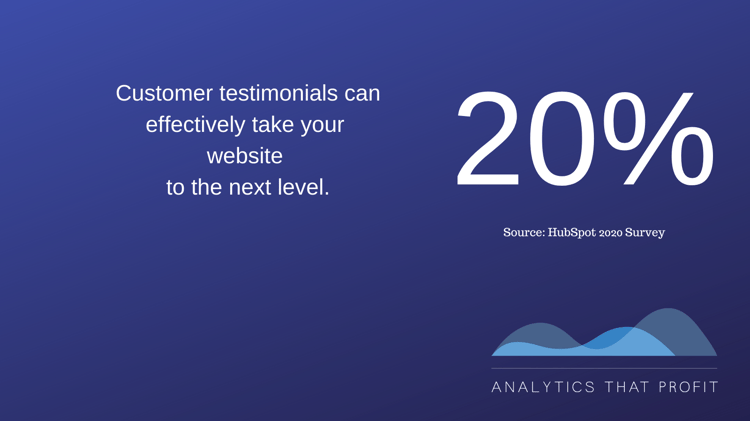 According to 20% percent of those polled, customer testimonials can effectively take your website to the next level.
Potential customers need to trust you before choosing to work with you. Fortunately, customer testimonial pages can help you effectively build that trust with prospects.
Use your website to build your credibility by sharing your expertise and successful track record with clients and customers. When you do get testimonials, ask your clients for permission to use their real names. Real endorsements from recognizable businesses and organizations means a lot more than an anonymous testimonial or a quote from a fictional persona.
Case study pages should have a consistent, concise format and template to explain what problem a customer had, how your company solved it, and what process you used to get to resolution.
Source: HubSpot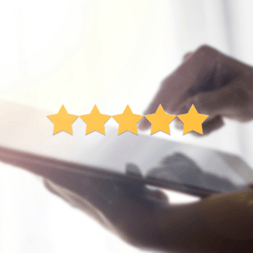 University Training Partners
Phil helped me start from scratch to build an online presence and a marketing plan. We got so much accomplished in only a few short weeks - I never could have done it without his guidance!

Phil is absolutely amazing. He volunteered his time to teach the organization, SoGal how to optimize HubSpot and Google My Business. I could not believe what I did not know about these two platforms and how much they can help you grow your business! Because of Phil, I am now able operate my businesses at a higher level with less steps. Phil is very knowledgeable and experienced. He is also enjoyable to learn from. Thank you, Phil!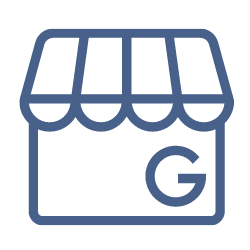 Don't forget about Google My Business
46% of all Google searches are looking for local information—which means if your business isn't optimized for local search, you could be missing out on potential customers who are searching for products or services within your geographical region.
And, as shown in our research, 26% feel a business' physical location is a key component of an effective website.
You should definitely check out our tips and tricks to optimize your Google My Business listing.
For more ideas on how to improve your marketing check out our Small Business Marketing page.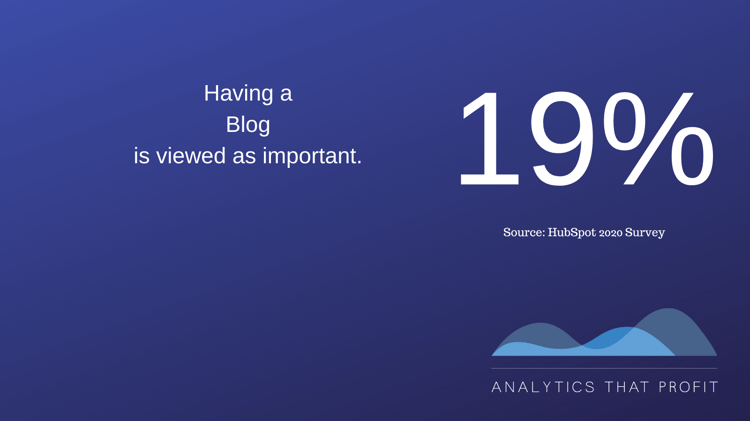 19% believe a blog is most important.
All digital, social, and other online marketing requires quality content. And a blog is one of the most effective opportunities you have to create and distribute high-quality content related to your products or services.
Out of those surveyed, 19% believe it's actually the most important element on a business' website.
To get maximum SEO benefit, your blog should be listed under your domain (something like www.yourcompany/blog) instead of off-site through a third-party service.
Ultimately, a blog can help you reach new audiences, increase brand awareness, and convert prospects through educational, valuable content.
Source: HubSpot
The Difference Between a Blog & a Newsletter — Definitions
What's a Blog?
The word BLOG is actually short for WEBLOG. It's a particular type of content that is presented on your website in chronological order. Your blog is meant to be an integral part of your website. Every blog you publish is visible whenever someone visits your site. Because strategic blogs can attract tons of your ideal customers from search engines and from social media, blogging is considered one of the smartest things you can do for your business today. So, what's the role of a newsletter?
What's a Newsletter?
A newsletter is a private communication between your business or organization and your email list. Typically, a newsletter contains company news and updates, special offers, coupons, and/or promotions. Think of your newsletter as having an "expiration date." The content is really only relevant for a short period of time. Plus, newsletters don't live forever on your website the way blogs do. They are simply a communication. Some companies send out one big newsletter at the end of the year. Just as many send newsletters out quarterly or even on a monthly basis.
Do You Need Both?
If you have the time, using both blogs and newsletters can be a powerful combination. Think of your blog as a marketing tool that serves to attract and engage people who don't already know you and your newsletter as a way to touch base with the people who do know you (such as your current or former customers) you can get a lot of mileage out of both.
So, now that you know the difference between a blog and a newsletter, are you going to do both?
Superb Strategies for your Digital Marketing and Online Business
Previous Post
Using 5 S For More Efficient Marketing
Next Post