So why would you want to perform an audit of Google Analytics on your website?
You want to have peace of mind knowing that you are collecting data that you can use to better inform your business decisions.
Be honest, you probably have not spent much time thinking about Google Analytics on your website. An audit allows you to gather information that you can share with your web designer/developer and ask questions about what Google Analytics is supposed to do.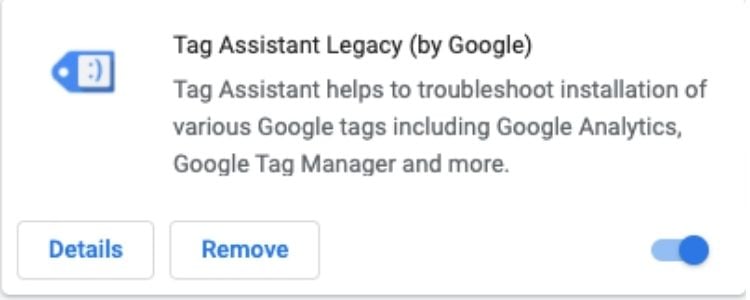 Use the Google chrome extension as part of your audit.
A critical piece to any audit of Google Analytics is to make sure that Google Analytics is installed correctly and collecting data. Just launch your Chrome browser and go to extensions and add the extension. One very nice benefit of this extension is the fact that you do not have to access to the Google Analytics account to see if analytics is installed correctly. The example below is from databox.com. Analytics That Profit does not have access to this Google Analytics, but we can still audit the website to see if it is installed properly.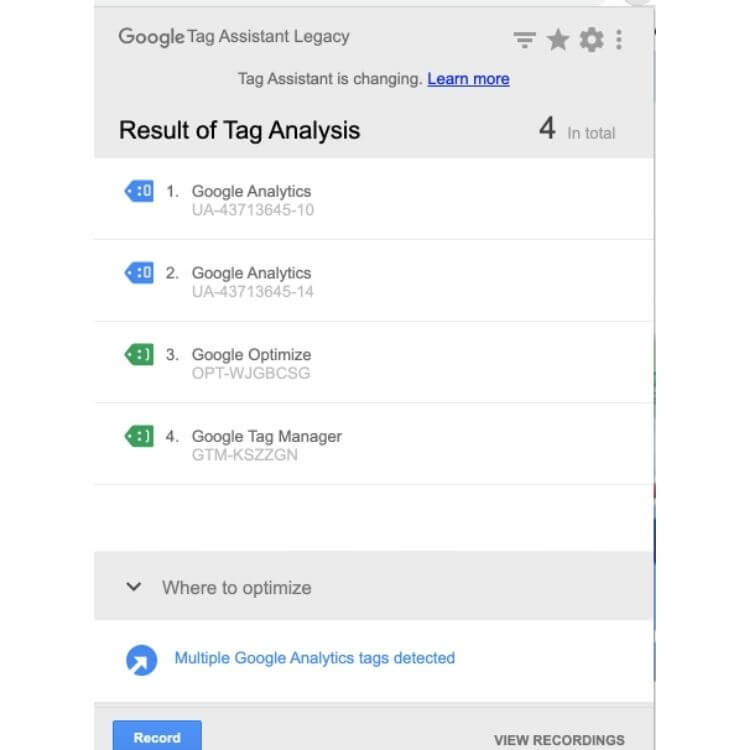 Use filters to audit the traffic that matters as part Google Analytics
OK, for this one you will need to login to your Google Analytics account to perform the audit.
What exactly is a filter and why should you care?
I am sure you have heard the expression garbage in/garbage out as it pertains to data. This is also true for your website analytics. You want to measure those visitors that are relevant. Customers and potential customers. What you don't want to measure are all the times your marketing team or employees are visiting the website. You can filter out these visits to your website.
Word of Caution: NEVER add a filter to your raw data. You will want to create a new view in Google Analytics and apply the filter to this view.
Look at the example below.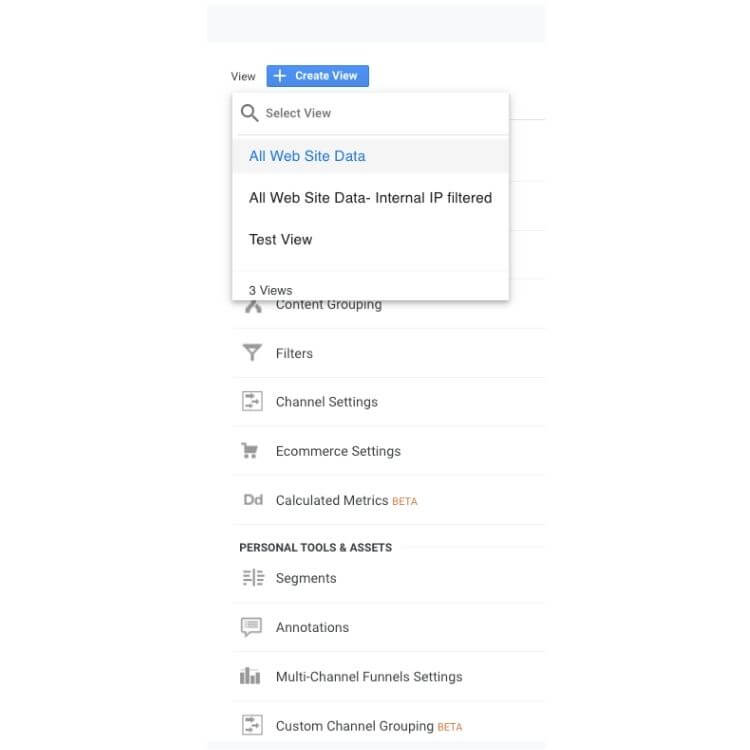 Once you have created this new view, you will apply the filters inside of this view.

These filters allow you to exclude visits to your website that are not relevant. Remember to ask for IP addresses from ALL places individuals may work. This would include remote work and co-working spaces.
Set Goals to Measure What Matters
Goals are exactly what you think they are. These are pages or events that lead to increased revenue for your business. These would include form submissions, video views and request for quote.
You may want to read Google Analytics is easy. Except for one thing and How a Non E-Commerce Website Generates revenue for the details on how to do this.
This is what's tricky: adding a dollar value to the goals.
Your gut reaction might be to assign Total Sale Value as the monetary value of the goal. The problem is you have not accounted for all costs. We recommend that you download our ebook Marketing Metrics Your Boss Really Cares About for the methodology of calculating ROI on marketing.
Consider using some percentage of the profit after accounting for all costs. You must reach a consensus agreement with everyone involved in the process. Once you have agreement on the profit piece, the really hard part is next.
You must identify the sales that were generated by your website. This could include visitor downloads before they called for a quote or Simple Form Submission. This requires meticulous attention to detail in record keeping and the patience to gather historical data. Segregate existing customers from new customers to present a solid case so you don't hear "They were already a customer so we would have gotten that business anyway."
Make sure Google Search Console is connected
Making sure that Google Search Console is connected to your Google Analytics is one of the most important aspects of your Google Analytics website audit. Why?
Google Search Console allows you to submit your sitemap for indexing and that will enhance your results when potential customers are searching for your product or service.
Serach Console also provides Core Web Vitals which allow you to see issues mobile users experience when viewing your website.
A huge benefit when search console is connected to Google Analytics is the ability to see what search queries are driving traffic to your website and what opportunities are available to increase your ability to get that traffic from your competition.
The image below from queries in Search Console shows you exactly how you rank for those search terms!

This information will allow your business to improve your content marketing.
Feeling overwhelmed? You are not alone. This can be intimidating.
Maybe it makes sense to talk with the #herdofnerds.
Are you ready to go really deep with your Google Analytics audit?
We just discussed the value of connecting Google Search Console to your Google Analytics. Now we will dive into the wealth of information provided by Search Console.
Mobile experience really does have an impact on how you show up in search results. Inside of search console you can quickly identify mobile usability issues as well as other performance problems with your website.

Here is a great example from our website analyticsthatprofit.com. As you can see, Google Search Console found some mobile usability issues - the red bars - and we corrected them.

This should convince you that a regular Google Analytics website audit must include using the information from Google Search Console.
Core Web Vitals should also be incorporated into your Google Analytics website audit

This tool is an easy way to identify what needs work and how your changes impacted performance. You will get details like those seen below.

If you click on LCP issue: longer than 4s(mobile) you will see the page(s) that have issue. You can then send this information to your web designer/developer for them to fix and then click Validate Fix after they have corrected the problem.

You will also want to look at Page experience on mobile as part of your Google Analytics audit process.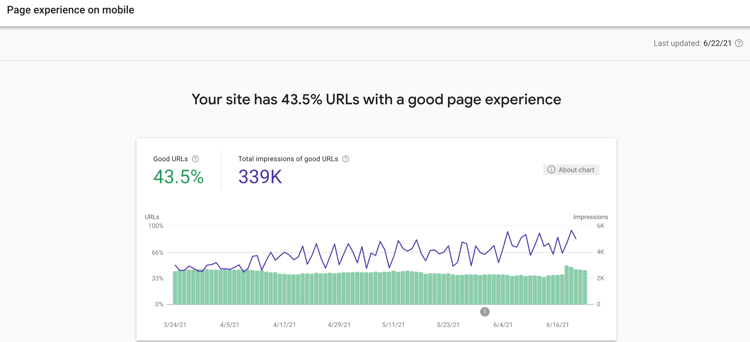 This provides a holistic view of pages that have a good status in core web vitals and no mobility issues.
If you scroll down you will see any issues that need to addresses. Improving the mobile experience on your website will improve your search engine results.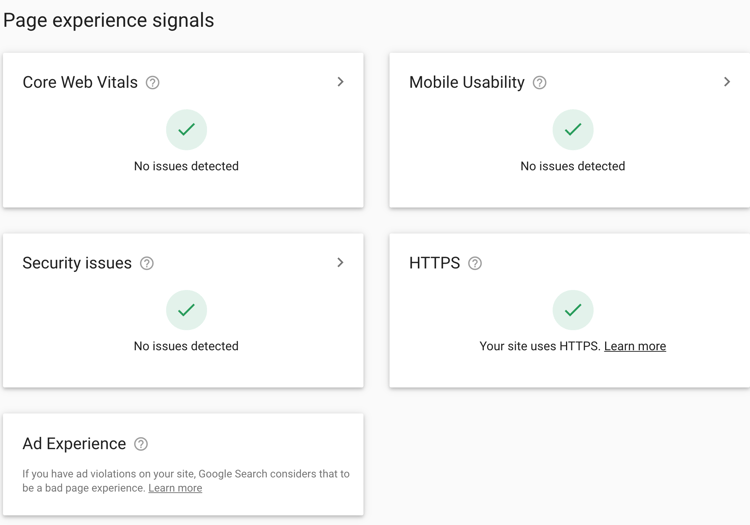 Mobile-first indexing best practices
Mobile-first indexing means Google predominantly uses the mobile version of the content for indexing and ranking. Historically, the index primarily used the desktop version of a page's content when evaluating the relevance of a page to a user's query. Since the majority of users now access Google Search with a mobile device, Googlebot primarily crawls and indexes pages with the smartphone agent going forward.

Starting July 1, 2019, mobile-first indexing is enabled by default for all new websites (new to the web or previously unknown to Google Search). For older or existing websites, we continue to monitor and evaluate pages based on the best practices detailed in this guide. We inform site owners in Search Console of the date when their site was switched to mobile-first indexing.
Source: https://developers.google.com/search/mobile-sites/mobile-first-indexing
We could on and on about what you should include in your Google Analytics Audit. It will take a least 8 hours to complete a thorough audit of your website. By now you are now strongly thinking you need someone else to do this while you run your business. No problem, contact the #herdofnerds.
Is Google My Business part of your SEO strategy?
Next Post