For business owners looking to measure success, understanding website analytics is a must. Knowing the right metrics to track and measuring them appropriately can help you gain key insights into the performance of your website and identify areas for further growth.
You have invested time and money in your website and as a business owner you really need to know if your website is bringing in new business and helping you retain your current customers.
Here are 5 metrics every business owner needs to understand.
How many people visited my website?

How did they find my website?

Which pages on my website were the most engaging?

Have they been to my website before?

Did they contact us?
You are busy running your business and simply don't have time to dig through reports to find the information that will help your business grow. Focus on these metrics.
How many people visited my website?
One of the most basic and important metrics to measure is website traffic. This metric measures the total number of visitors that have come to your website within a given period. Knowing how much traffic your website gets can help you discern popular content and identify areas for further optimization or improvement. You can track this information using web tools such as Google Analytics, which provides in-depth traffic data including the total number of visits, average session duration and more.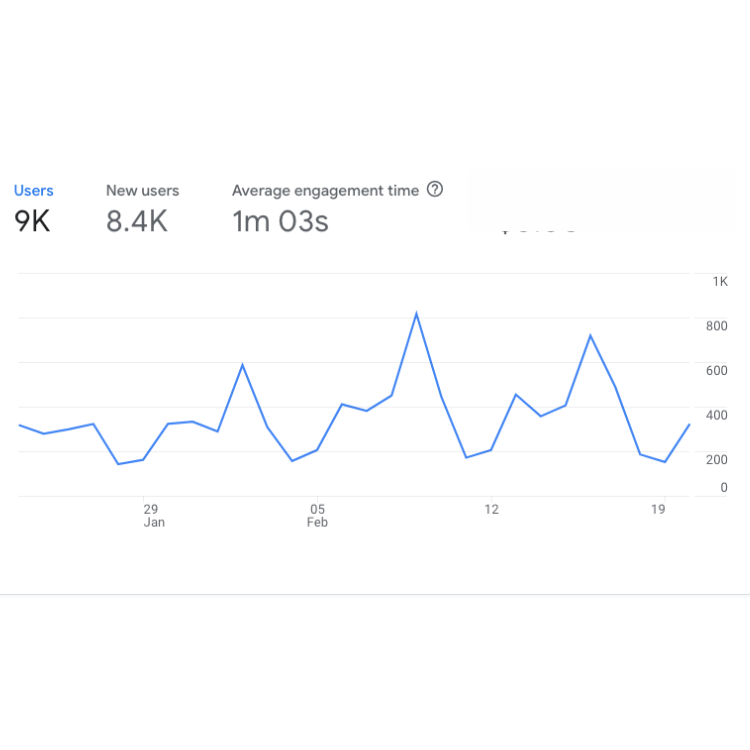 If your business goal is new visitors to your website then you might be happy with the above results. However, if you want existing customers to come back to your website, you might have a problem.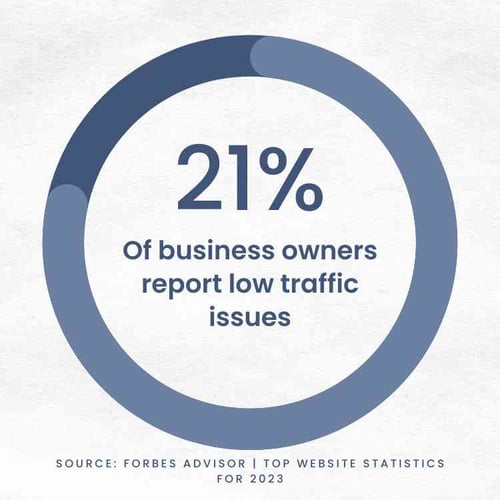 Pro Tip: Set a goal aligned with your business goals for new visits to your website.
Not seeing this information in your marketing reports? We should talk.
How did they find my website?
Knowing where your website visitors come from is critical to understanding how your marketing efforts are performing. Tracking this data can help you identify which channels, such as search engine optimization (SEO) or email campaigns, bring the most traffic and leads to your website. To measure referral sources, use web tools such as Google Analytics and custom landing pages to track referral links back to their source.
A search query is the words people used in an internet search and your website showed up. Average Position is where you showed up in search. Think of 1-10 as page one in search results. Click Through Rate is the number of times you showed up in search divided by the the number of clicks (visits) to your website.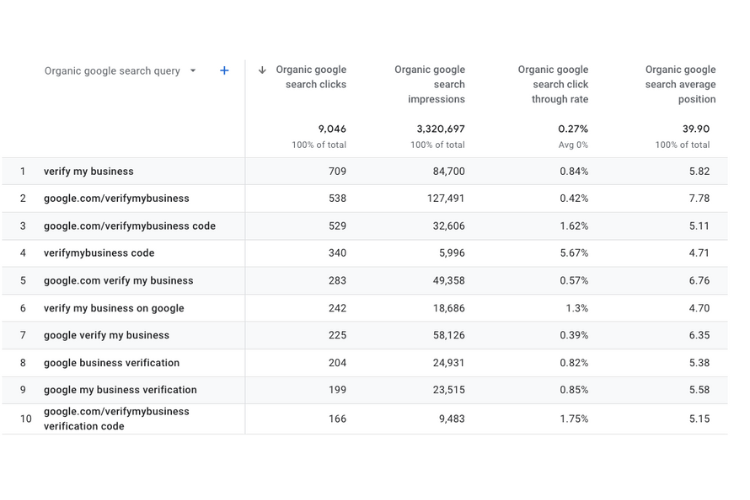 Pro Tip: Determine what search terms- search queries- you want to show up for internet searches. This is sometimes referred to as keyword searches.
Bonus Tip: High Volume low click through rate search terms are opportunities to improve content on your website.
Which pages on my website were the most engaging?
Measuring which pages on your website were the most engaging is important in understanding how well your content resonates with your visitors. Using a web analytics tool like Google Analytics, you can track popular pages on your site by looking at page scroll depth, time spent on each page and the bounce rate (percentage of people who leave your website after viewing only one page). From there, you can further refine these pages to make them more engaging for your visitors.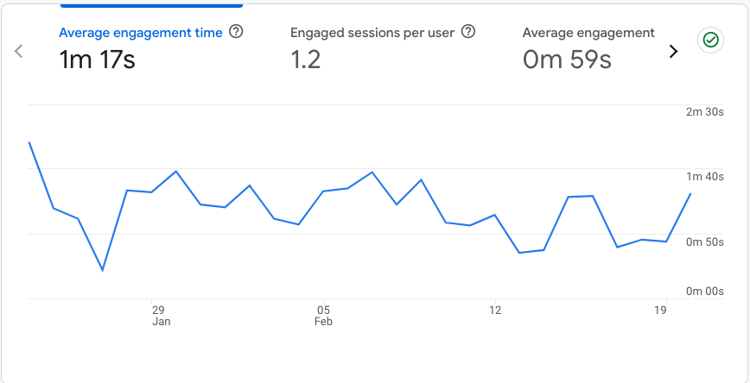 Average Engagement Time needs context to be meaningful.
A Contact Us page might have low engagement time as the user found what they needed and contacted you.
You would expect longer engagement with an article, case study or blog post.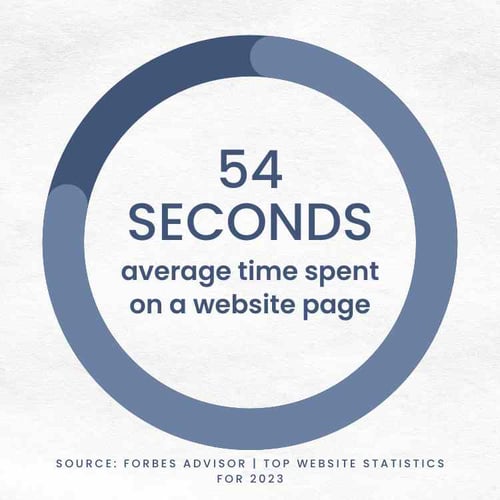 If your blog post or case study has a low average engagement time it most likely is not capturing the attention of the reader and not answering their questions.
Including videos on a website can increase time spent on page by 88%
The average time spent on pages with video is six minutes
Have they been to my website before?
Another important metric to measure is how many of your visitors are new versus returning. Analyzing the behaviors of repeat visitors enables you to tailor your content and offerings accordingly. A good way to monitor this data is through audience segmentation in Google Analytics, where you can view metrics for new and returning visitors separately. This allows you to better understand which strategies are effective at inspiring repeat visits from prospective customers.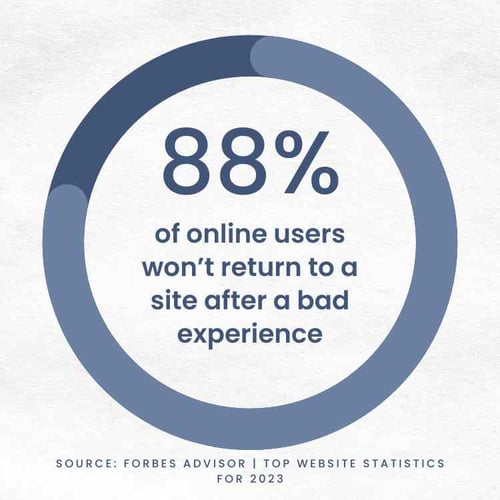 Your website is your business' 24 hour sales force. You want to see new visitors consistently and you want them to have a great experience so they will return.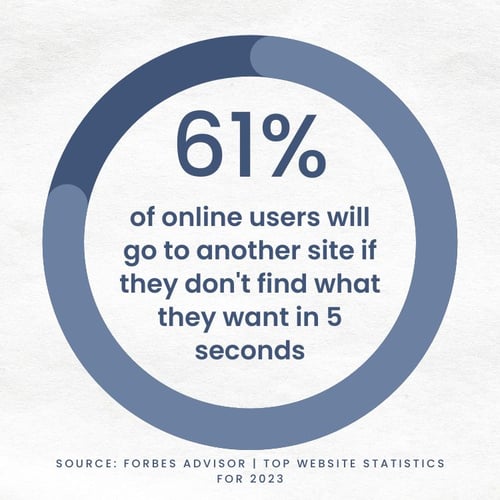 This is one of the reasons that we strongly recommend your website have a Frequently Asked Questions section. The first step is to consider the questions that your customers are already asking you. You can do this by thinking about your conversations with clients, reviewing customer support inquiries, social media mentions, or conducting surveys. Once you have a good idea of the types of questions you frequently get from people, you can start to formulate answers for them.
Did they contact us?
How many of your website visitors completed the desired call to action (CTA) or contacted your company? Your company's success depends on driving leads and converting leads into customers. It is important to measure how successful your site is at doing this; creating contact forms, leveraging live chat, or implementing a quote building tool are all good ways to actively encourage contact. Utilizing Google Analytics or other analytics tools can give you insights into which pages are most effective at driving contact from viewers.
Website users spend an average of 6.44 seconds focused on the main navigation menu.
Make your Contact information easy to find!
Most business owners don't have time to dig through reports to get the information they need to grow their business. We solve this problem for you.
Our partnership with Databox allows us to provide the metrics that matter in real time reporting.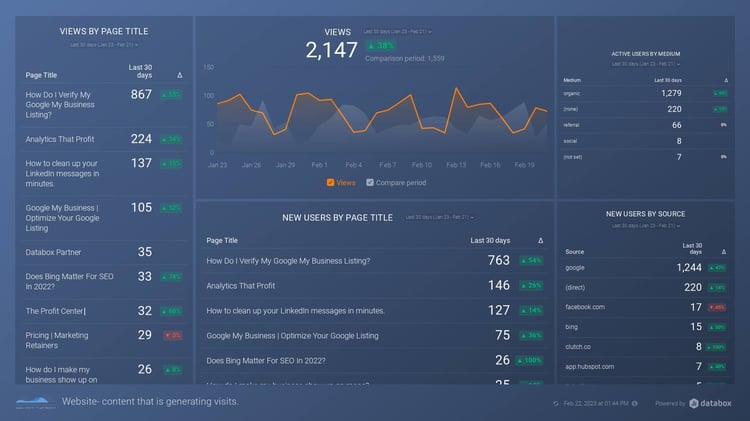 The Importance of Technical SEO for Your Website's Success
Next Post