What Should Be In My Email Signature?
Your email signature works much like a traditional business card - it's a way to introduce yourself and your business to those you correspond with online. But unlike a business card, which you hand out to people you meet, your email signature gets included with every email message you send. So it's essential to make sure it's well-designed and has all the information you want to communicate.
When you need to make a favorable impression, consider adding these components to your email signature:
Your Name and Title - Adding your name and title to your Email signature makes it easier for recipients to identify who you are and your role in the company.
Your Company Name and Logo - Adding your company name and logo to your email signature is a terrific way to reinforce your branding efforts. It also makes it easy for people to remember who you are and what you do.

Your Contact Information - Include your email address, phone number, and website so people can quickly get in touch with you. You may want to include your social media links so people can connect with you on those platforms.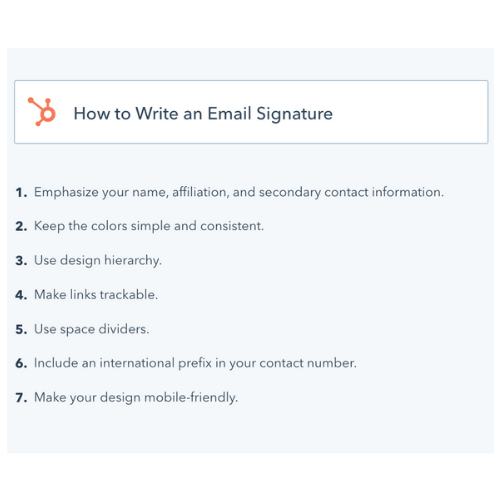 Image Source: https://blog.hubspot.com/marketing/professional-email-signatures
A Call To Action - What do you want people to do after reading your email? Consider adding a link to your scheduling calendar, your social media platform sites, or any other online destination they can visit to learn more about you and your business.
A Testimonial - A short quote from a satisfied customer can be a great way to add credibility to your email signature. If you have room, you may also want to include a link to the testimonial on your website.
Images - In addition to your company logo, you may want to include a personal photo or other photos in your email signature. Just make sure the image is high quality and looks good at a small size. Another benefit of having an image present in your email correspondence is that it can help to track your open rate.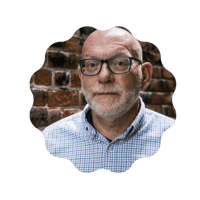 A Personal Message - Adding a personal message is an excellent opportunity to glimpse who you are and what drives you. This message could be anything from a favorite quote or a brief statement about your personal or professional mission. Whatever you decide, keep it short and sweet - one or two sentences are the perfect length.
If you are not a graphic artist you may want to consider an email signature generator. We use the one provided by HubSpot.
Consider Multiple Email Signatures
Another option business owners might want to consider creating multiple versions of their Email signatures to use with different types of correspondence. For example, you might have a more formal signature for business emails and a simpler one for personal messages. Or you might have a signature with more information for new contacts and a shorter version for people you correspond with regularly.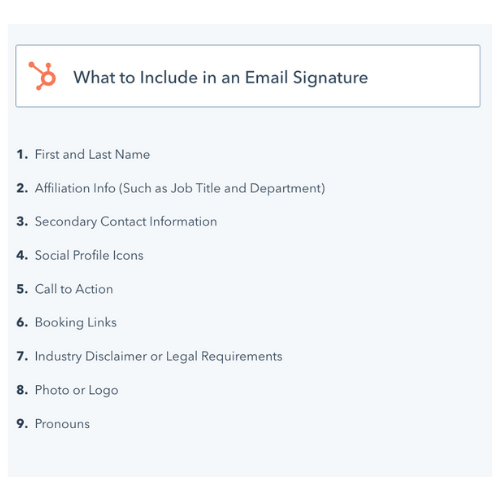 Image Source: https://blog.hubspot.com/marketing/professional-email-signatures
By including these elements in your email signature, you can make a great impression on those you correspond with and promote your business simultaneously. So, take the time to create a signature that accurately reflects you and your company - it's worth the effort!
Looking for more tips on best practices for marketing your brand and business? Check out these articles.