How to clean up your LinkedIn messages in minutes.
Updated August 10, 2021 with a more automated version thanks to @lifedup!
I don't know about you, but my LinkedIn inbox has gotten out of control. It was time to do something about it. So, I started to delete messages.
The problem is I had thousands of emails. OK, I will just take a Saturday and clean it up.
Stop the madness! Is this really a good use of my time?
Deleting messages in LinkedIn

You have to pull up each message, click the three dots and delete. Is this a new torture technique? I just didn't have the patience to do this and was this really good use of my time? NO.

There has to be a better way and I can't be the only person that has this problem.
A quick search of GitHub and sure enough I was not the only person aggravated by this and there was a solution already in place.
First, I want to nominate Tim Whitacre for a Nobel Peace Prize.
" LinkedIn is a valuable resource, but sometimes it sucks. One of those times is when you want to delete messages. You have to select each message one by one. It takes about 4 "clicks" to successfully delete a message.
This script should help. Since LI requires you to perform multiple steps, I decided to automate it for you. Once you initiate the script, it will run every second. If a message has the ability to be deleted, it will be. If not, it will be archived. Some "InMail" messages cannot be deleted on the web app. This script should work as long as LI doesn't change their page layout or element names, which will happen eventually."
This solution is so simple and quick it is a must-have in your tool kit.
First, log in to LinkedIn using the Chrome browser and go to Messages.

Right-click and click Inspect.
Now Click Console.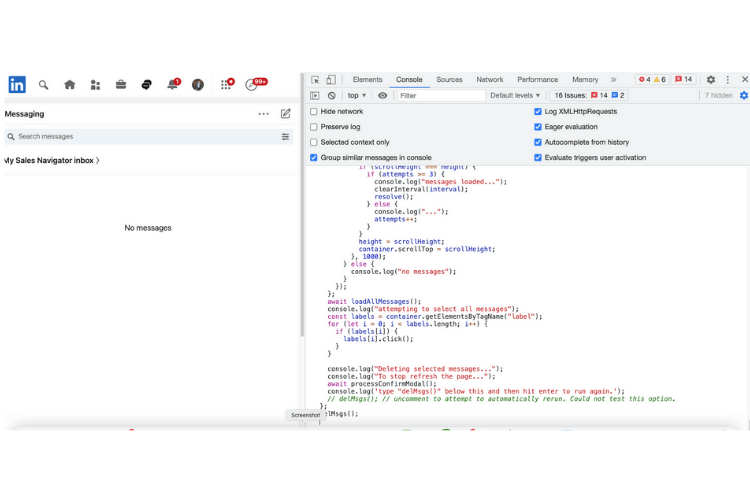 Paste this script at the bottom of Console and hit enter.
You can click the image below to get the script.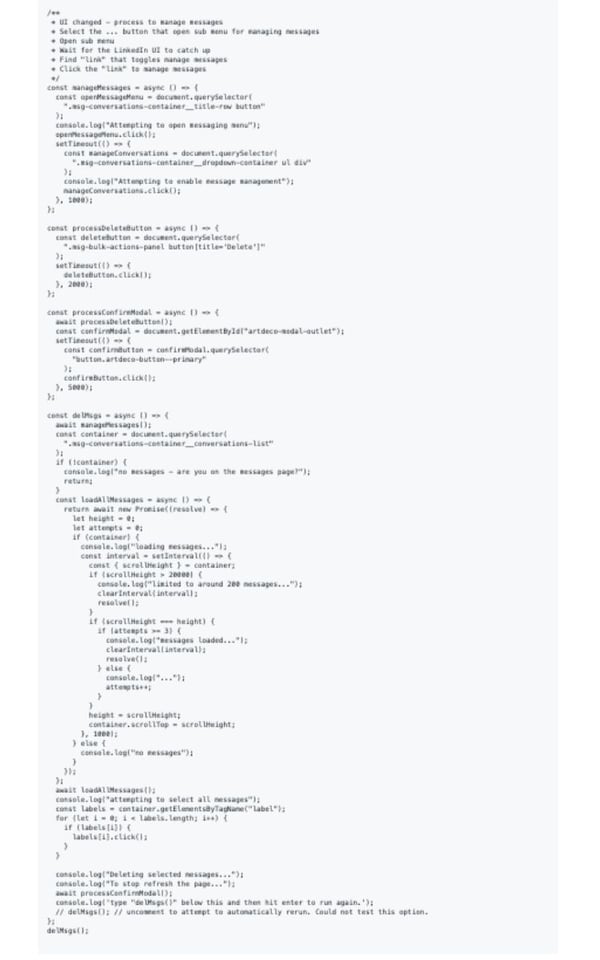 This latest iteration provides for some automation and
now it takes even less time to delete all your messages!!!!!
I used the modified script from @lifedup. Just scroll down the page and you will find it.
GitHub is free and it is easy to create an account.
Bulk delete messages in LinkedIn
Honestly, it only took 2 minutes to have no messages in my Inbox.
If you don't want to spend hours deleting your LinkedIn messages this is a great solution.
UPDATE: This will also delete all your messages on your mobile devices.