HubSpot Productivity Hacks | Meetings
Hi, it's Phil Wiseman with Analytics That Profit, and today I want to share one of my favorite HubSpot productivity tools, Meetings.
So, if you've received an email from me, you've seen in the footer in my email, "Schedule a time to talk".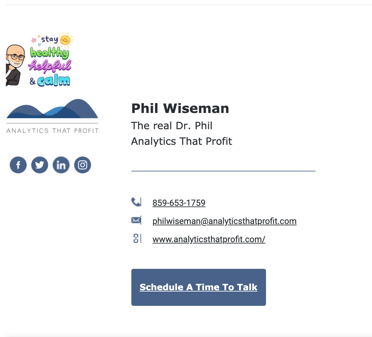 You click that link and it shows you all the available times that we can chat.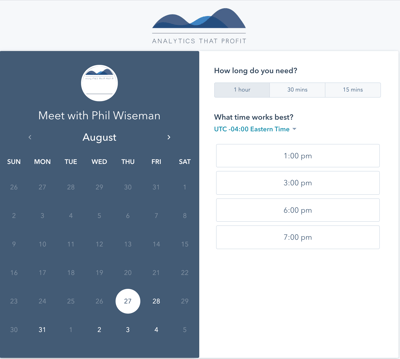 Think about how much time you will save not having to send four to five emails back and forth trying to find a convenient meeting time!
So I'm going to show you how to set that up inside of HubSpot. First, go up to the white gear tooth, and that'll open your settings.

Now you might think that the first place you want to go is into Meetings.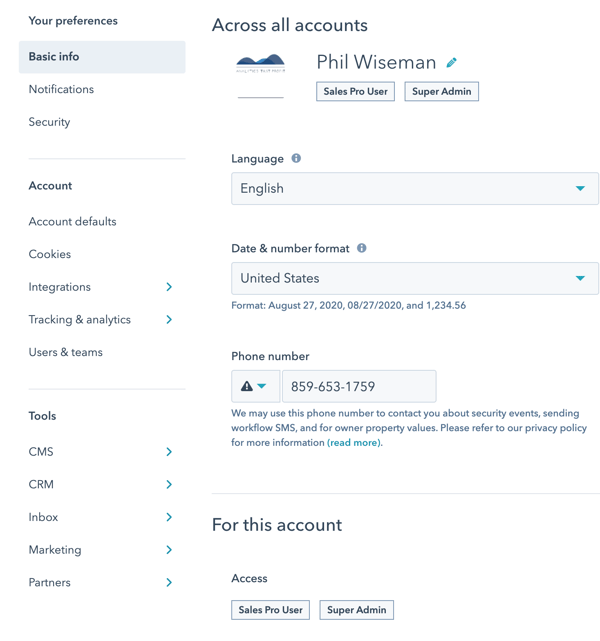 No.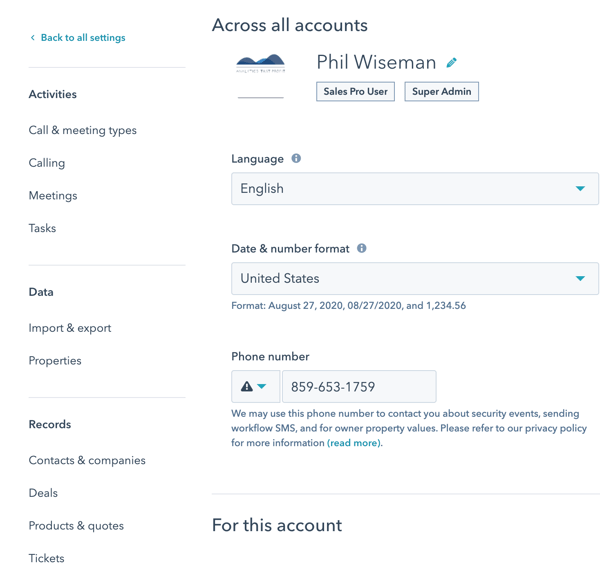 The first thing you want to do is go back to all your settings and go to Integrations.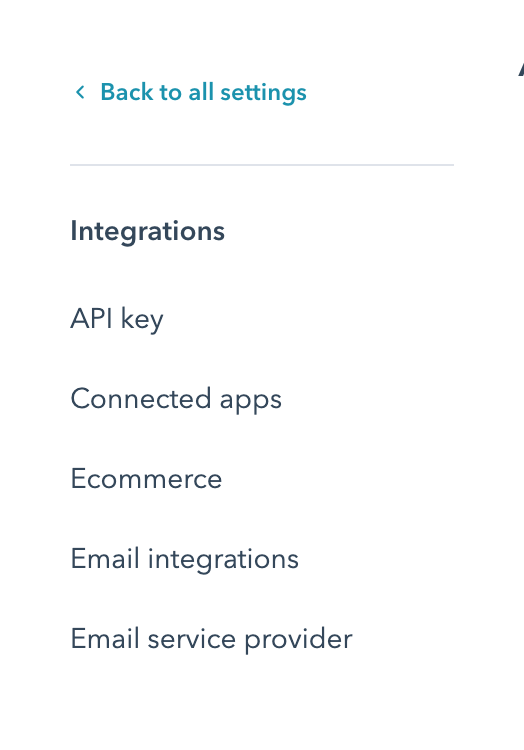 Once you're in Integrations, click Email integrations, and then you'll simply want to connect your inbox.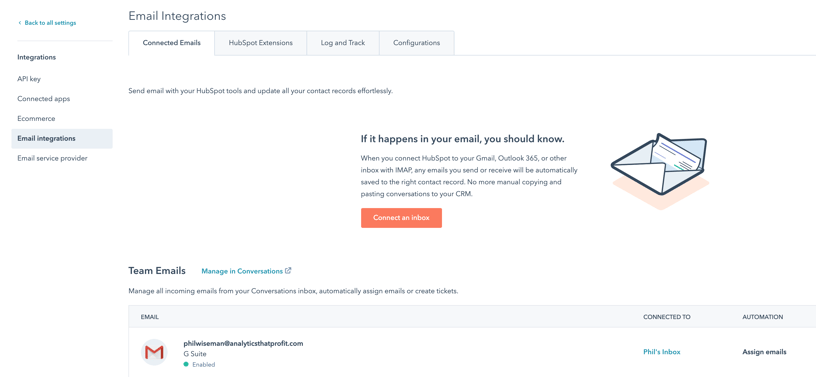 And this connects effortlessly with your Google gmail or G Suite, and Office 365. You can also customize for different platforms. I already have mine connected to my G Suite.
Now the HubSpot extension is handy and a great productivity hack!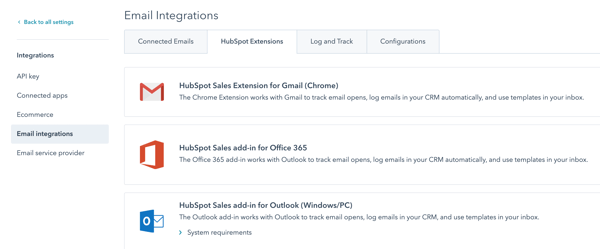 When you receive an email you will see this: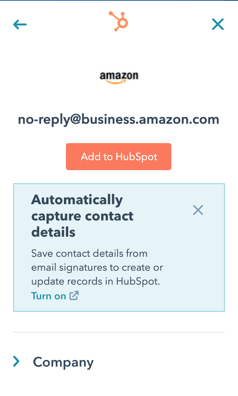 Ok, maybe I am ordering too many items online 🤣
HubSpot Productivity Hack | One-Click addition to CRM from Email
One-click and put the person in the CRM.
Saves you a ton of time and time is money.
How do we actually set up these meetings in HubSpot?
Go to Sales and click Meetings.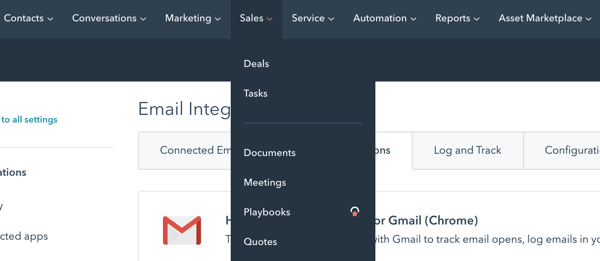 And there we are, and you can create a meeting link.

Let's just see how I set those up.
So first, it pulls the information from the contact record. I will name it Meet with Phil.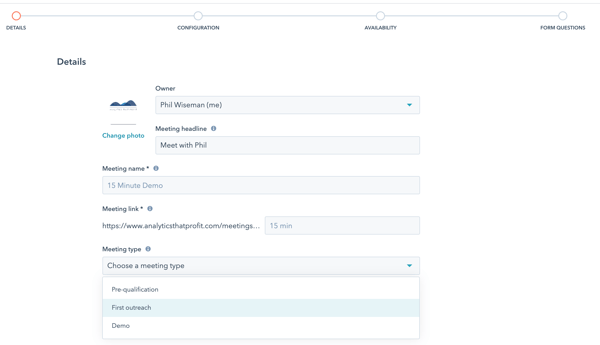 And then you can choose a meeting type, and you can change these defaults later if you want to.
We have meeting type, duration in hours, 30 minutes, 15 minutes.
So people can choose a one-hour meeting, a 30-minute meeting or a 15-minute meeting.
So next, how do we configure all of that?
So if you notice my logo is on the meeting or you could put your personal picture there.
Now under Configuration, I've put in the Zoom meeting link and it connects directly with my Zoom account.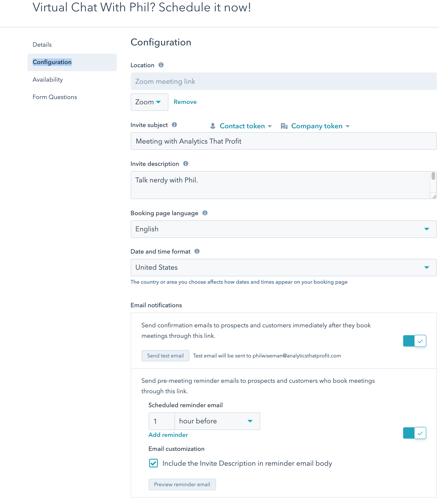 Now, all you see here is, "Talk nerdy with Phil."
But if you scroll down, you'll see more words. So you can add to this as much as you want.

HubSpot Productivity Hack

| Email auto reminder for meetings

So you can see all those words I added, like the Zoom meeting, are in this automatic email.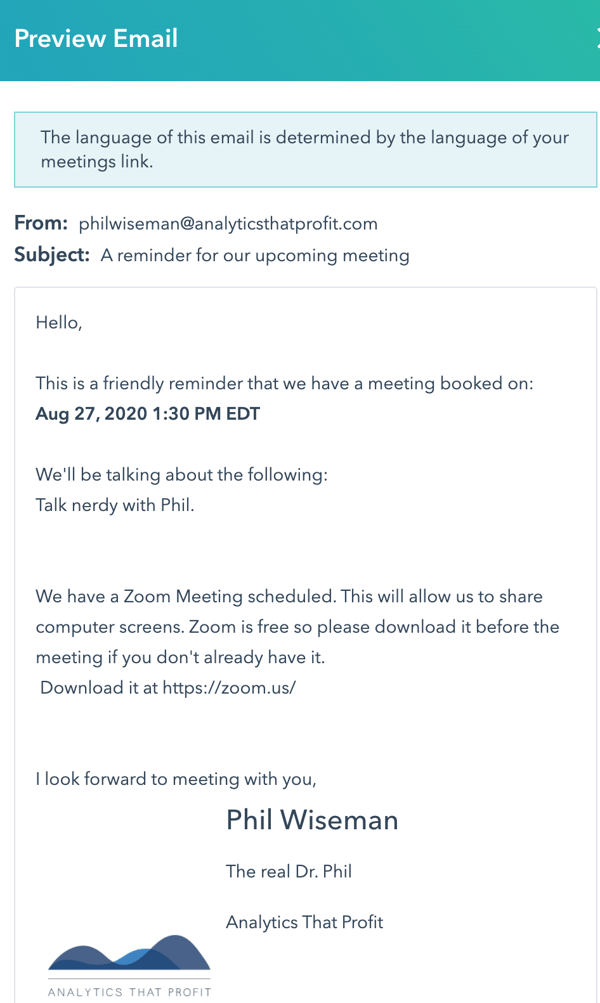 Now, the next thing you want to do is set your availability.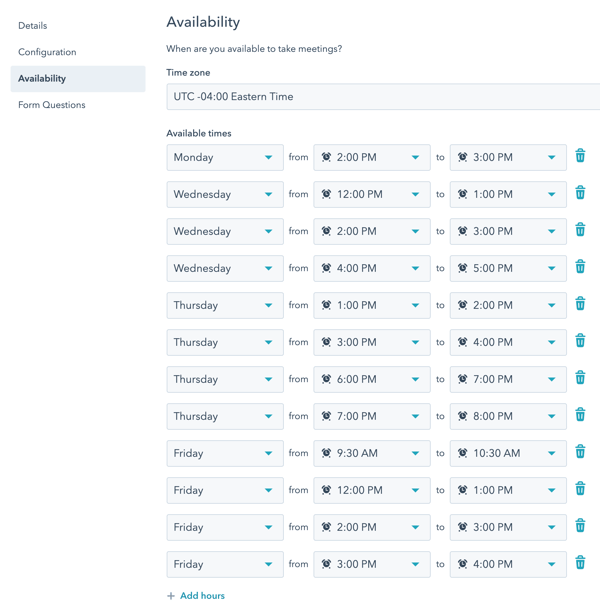 Your Meetings link will integrate completely with your Google or Outlook calendar.
In my case, I've decided to limit my meeting availability to certain times on certain days.
So when someone goes to schedule this type of meeting, it will only show the availability that you have selected.
And what's nice about this is there's no going back and forth to set a meeting. These are the times you've made available.
So if I have a meeting booked in one of these times, it won't show that availability when someone goes to book a meeting with me.
HubSpot Productivity Hack

| Buffer Time Between Meetings

You might set a buffer time of 5 to 10 minutes in between your bookings.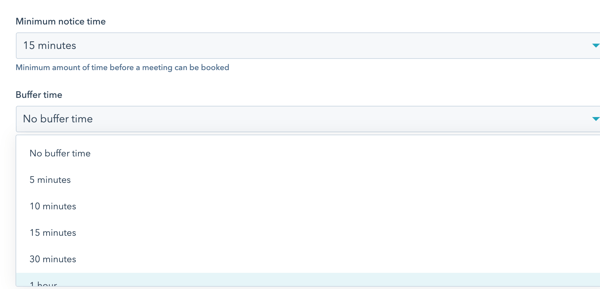 HubSpot Productivity Hack

| AutoFill Forms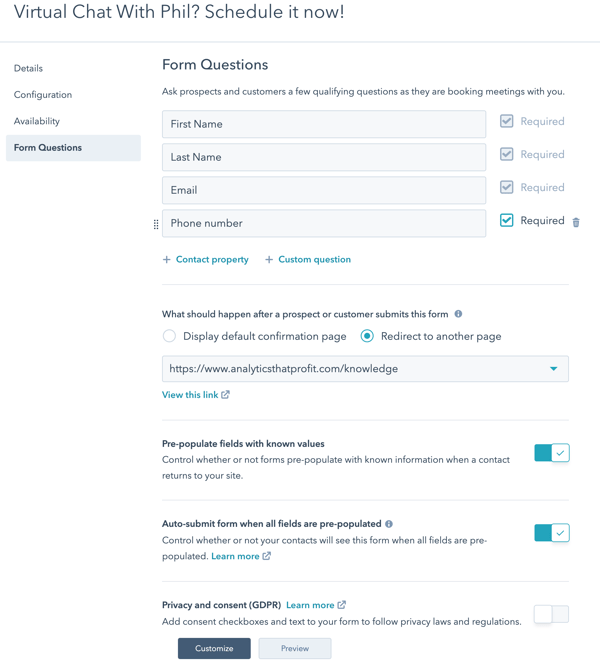 So obviously if someone's booking a meeting, you need to know who they are, but you can also add additional information. So in my case, as long
as I know who you are, have your email and phone number, we're good to go.
Instead of redirecting people to a meeting confirmation page, once you've booked a meeting with me, you will be sent over to my knowledge base. There are lots of useful articles there.
So you can do the same thing. You can pick a page to send people to once they've scheduled a meeting with you.
You can also customize that for GDPR and other things of that nature. And then when you're done, it's real simple.
You just add that meeting link.
So right here, this Schedule A Time To Talk, I've put it in the footer of my email and it's tied directly back to this meeting link. So what I've done is I've copied that link, I've added it as a call to action in my email. Now, in this case, I've used the HubSpot email signature generator and it has a place for a custom call to action, and that's where I've added it. When you receive an email from me, you can hit Schedule A Time To Talk.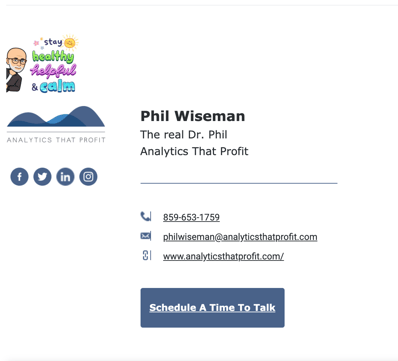 Click the link and You will notice it shows you my availability.
It is synced automatically with my existing meetings, so it's not showing you availability when I already have a meeting booked.