3 things to do to get new customers Quickly
---
Quit Making Sales Calls!
I got my first sales job when I was thirteen and have loved sales ever since. Always aspiring to be the best, I've spent countless hours watching sales videos, reading sales books and listening to audio about sales.
Some common (and way over-used) mantras spewed out by motivational sales gurus are:
Say "I like myself, I like myself" 100 times a day.
Remember "Don't take rejection personally."
Gotta "Just make one more call."

Well guess what? The gurus are wrong!
If you want to get new customers quickly - do these 3 things:
Stop making sales calls for one month.

Talk to your current or past customers, instead.

Ask them great questions and take notes.
Then...
Here's what you'll learn:

Why your current customers picked your product or service.

New challenges they see on the horizon.

Where they are going to look for help for their challenges.
Here's what you'll do with this information:
Write Content that is filled with your unique benefits.

Provide information that shows you understand and help solve their challenges.

Be there when they look for help.



Yes, there is data to back this up. Salesforce in the article Why Selling Is Service: The Keys to Collaboration shares the following:
If you think success in sales comes down to the product or ideas you offer, think again.
That's according to Dan Waldschmidt, Co-Founder and Partner at EDGY Inc. The business strategist, speaker, and best-selling author says the only thing you are really selling is the day-to-day interactions you have with existing and potential customers. Waldschmidt's view is that selling is service — not sales. Providing outstanding service, in other words, is now more than ever a vital part of any successful sales process.
He warns that people are so frantic about making money these days, they often neglect how their company approaches the process of simply being awesome as a business.
That's backed up by recent research on the link between providing great customer experience and great service. The "State of the Connected Customer" report found that today's consumers and business buyers are looking for differentiated, personalized experiences that are based on trust and understanding, and they will shop around to find them. Eighty percent of customers believe that the experience a company provides is as important as its products and services. More than two-thirds (67%) say their standard for good experiences is higher than ever.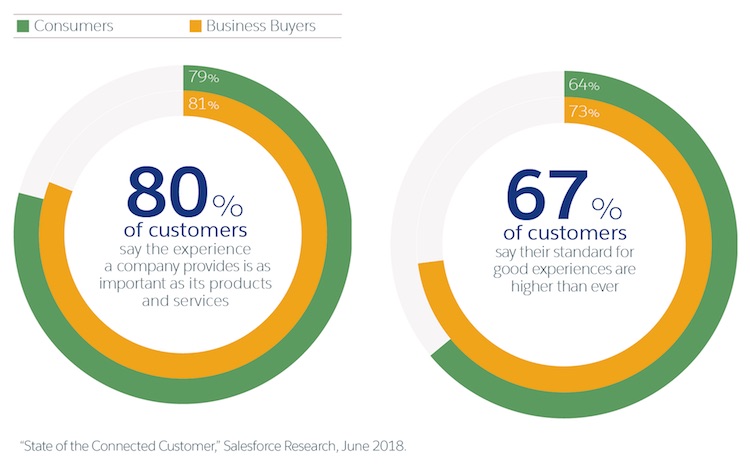 Bad service is an issue that affects companies of all sizes. Today's consumers and business buyers are more informed and less loyal than their predecessors — so it's little wonder that 76% say that it's easier than ever to take their business elsewhere. Waldschmidt adds that stellar customer service is especially vital for small- to medium-sized businesses (SMBs). He has found that the public in general wants to support local SMBs and have them as part of their lives, but bad service keeps them from coming back.
---

Scared to try it? Don't know what to ask? No problem.
We have created a cheat sheet with 25 questions you must ask your customers..
Now Go get those new customers quickly!
---