The CRM - Customer Relationship Manager - has evolved past a simple repository of attached files and data storage. The modern CRM allows for field customization and when used effectively, can nurture both prospect and customer relationships. Once you have identified your ideal customer you can customize this information by creating Buyer Personas.
The Buyer Persona can be as simple as the industry vertical or as complex as the type of certifications used in that market by those specific individuals. Start general and drill down to the specifics. Taking the time to fully develop your Buyer Personas allows you to combine this information with the buyer cycle/stage and create content and content offers for each unique buyer in their buying journey.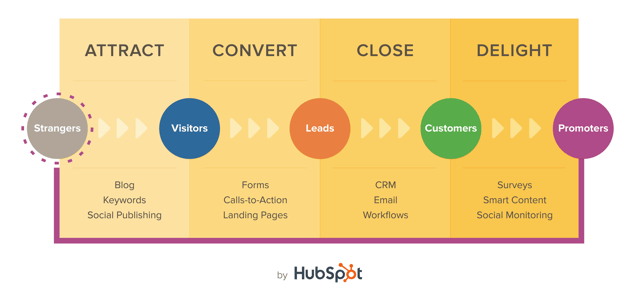 The Buyer Persona when used in combination with the Buyer Journey allows you to determine if you have a Lead, Marketing Qualified Lead or Sales Qualified Lead based on engagement with Content Offers. In order to maximize the effectiveness of your CRM, you must determine the criteria that "qualifies" a contact to meet each persona and then produce unique content to guide them through their buying journey.
Let's say a prospect downloaded an eBook on a specific industry trend yesterday. Armed with this insight, the sales rep can then customize their cold email to mention this trend and offer their expertise. Since the topic is evidently top-of-mind for the prospect, the sales rep stands a much better chance of grabbing their attention with this email and receiving a response.
On the other hand, the sales rep would take a much different approach if the same contact checked out the product's pricing page in the last hour. A demo or free trial is a much more appropriate and interesting offer in this case.
A tight bond between marketing automation and CRM enables sales reps to layer context onto their outreach. And this, in turn, helps their emails and calls to stand out amidst a sea of bland, generic pitches.
Prospecting features in certain CRM systems turn prospecting into less of a hunting expedition and more of a one-stop shop. For example, HubSpot CRM collects sales relevant information from across the web on a variety of companies, and then compiles data into a searchable database. Reps can then conduct custom searches based on specific criteria, and the system returns a comprehensive list of prospects that fit the requirements.
Prospecting = done.
In addition, you can automate your marketing to engage with your prospects as they move through the buyer journey, thus allowing sales to spend time with highly qualified leads.
We are certified in HubSpot Sales Software.

You Want More Leads.
We'll Help You Get Them And Close Them.